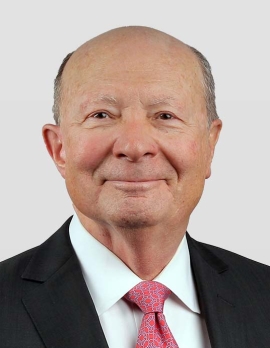 Edmund P. Giambastiani, Jr.
---
Admiral Giambastiani joins First Eagle Alternative Credit's Board of Directors with extensive leadership experience serving in the U.S. Navy for 37 years, until his retirement in 2007.
He served as the Seventh Vice Chairman of the Joint Chiefs of Staff, the second ranking officer in the U.S. military, as NATO's first Supreme Allied Commander Transformation and as Commander, U.S. Joint Forces Command.  Additionally while on active duty, Admiral Giambastiani held extensive operational and staff assignments including command at the submarine, submarine squadron, fleet, allied and joint service level.
Admiral Giambastiani currently serves as a director on the board of The Boeing Company and is a member of the board of trustees of the Oppenheimer Funds (designated the New York Board), the MITRE Corporation and the U.S. Naval Academy Foundation Athletic and Scholarship programs. In addition to independent consulting, he serves on the advisory boards of the Massachusetts Institute of Technology Lincoln Laboratory and the Maxwell School of Citizenship and Public Affairs of Syracuse University. He also served as the chairman of the board of Monster Worldwide, Inc. Since retirement from the Navy, he has served on numerous U.S. Government advisory boards, investigations and task forces for the Secretaries of Defense, State and Interior in addition to the Director of the Central Intelligence Agency and as a congressionally appointed commissioner on the Military Compensation and Modernization Commission.
Admiral Giambastiani holds a BS from the U.S. Naval Academy where he graduated with leadership distinction.